THE MIND BODY ADVENTURE APP
The Mind Body Adventure App brings physical fitness, mental clarity, emotional intelligence and spiritual alignment into one practice.
Resolve pain and anxiety, support weight loss and sleep, explore addiction and moodiness, develop consistent energy and inspiration using mind body alignment.
Mind body alignment is the foundation to live relaxed and strong.
If you want to transform dis-ease and discouragement into being relaxed and strong, self-motivated and self-confident, the relationship between mind and body needs to be aligned. Positive change in mind body alignment starts with discovering the negative patterns between your body's expression and mindset.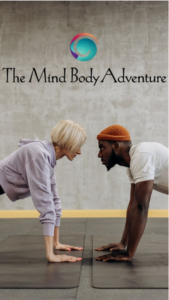 The Mind Body Adventure App shows you how to bridge fitness and wellness. It combines posture, strength training and visualization to resolve physical tension and emotional stress.
The Mind Body Adventure App puts support in your pocket. It's the on-the-go place for mind body alignment.
This work is especially suited for ambitious, determined, body-conscious people who are sick of feeling overwhelmed and want to shift:
Physical pain and exhaustion, to posture that's relaxed and strong.
Anxious self-judgment, to aligned self-confidence.
The ping pong game between loving and hating the effort of workdays, and workouts, to consistent inspiration that feels meaningful.
This is a Mind Body Alignment App that offers the exact steps on how to CHOOSE YOU when under pressure; and, align with your life instead of react to it. Using the BodyLogos Method®, you'll discover how to keep your body strong and your mind relaxed simultaneously!
The BodyLogos Method  translates the emotional "triggers" that cause chronic pain and anxiety. Through this understanding you can regain mind body alignment, deliberately create the life you want, and disengage from the influences that have, before now, taken you out.
Imagine what's possible for you when you're aligned in mind and body!
"BodyLogos is a whole new approach to body sculpting that uses weights to enlighten you."
"Tammy Wise's BodyLogos movement is Mindful Fitness."
"For a truly Zen workout experience, BodyLogos provides cross training to strengthen both mind and body."
The Mind Body Adventure App offers you mind body alignment when under the pressure of outside resistance, in and out of the gym!
The Mind Body Adventure App, will give you access to The Art of Strength, the program that will keep your mind and body aligned and fit through:
35 Mind Body Strength Training WorkOUT Videos
15 Quick Posture WorkIN Videos
5 Visualization Body Journeys
5 Mindset Prompts
6 Extra Teaching Videos and multiple PDF Worksheets.
 The Art of Strength Program trains you to be relaxed on the inside and strong on the outside. Follow this tried-and-true structure for success!
The Mind Body Adventure––Art of Strength Program: $34.99 per month
WANT MORE PERSONAL ATTENTION & QUICKER RESULTS!
THE ART OF STRENGTH LIVE DEEP DIVE
The Art of Strength Deep Dive kickstarts your mind body adventure. If you're like most people, you need support to change old habits. Information is helpful, but transformation is what you need. And that requires a coach and an app!
The Art of Strength Deep Dive offers real-time physical training and mindset coaching with me. This deep dive is done in small groups to motivate you into bold action. You'll unveil your mind body alignment blocks: unique misalignments which relate to your unique story. And then, train for alignment to change your story!
"No one ever got me to the same bat-channel and bat-time five weeks in a row! The Art of Strength Deep Dive not only helped me lose weight and gain alignment, I've sustained both! The mind body aspect helped to de-stress and recharge my sensitive gut issues, and recharge the rest of me. It was an eye-opening multi-layered experience with supportive group connection."
Kitchen Designer & Contractor – Gary Townsend
DISCOVER THE SECRETS OF MIND BODY ALIGNMENT
The next Art of Strength Live Deep Dive starts in March 21, 2022.
***ACCEPTING APPLICATIONS***
CLICK TO LEARN MORE TODAY