The Mind Body Adventure App resolves pain and anxiety using mind body alignment. If you want to feel relaxed and strong, self-aligned and self-confident, the relationship between mind and body is your wellspring. And, body awareness around posture and strength is the practice.
The Mind Body Adventure App shows you how to bridge fitness and wellness, to resolve physical tension and emotional stress. It combines posture, strength training and active meditation. You'll, simultaneously, get fit and stand centered in your strength and influence.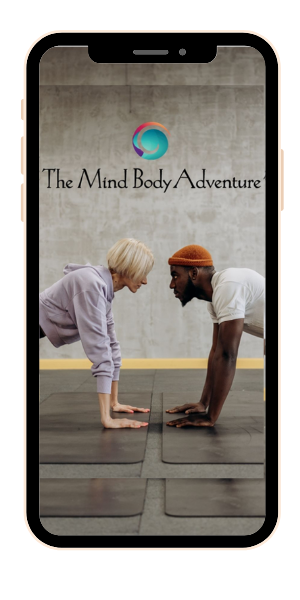 This work is especially suited for ambitious, determined, body-conscious people who are sick of feeling overwhelmed and want to shape shift:
* Physical pain and exhaustion, to posture that's relaxed and strong.
* Anxious self-judgment, to aligned self-confidence.
*  The ping pong game between hyper-vigilant and unmotivated workdays, and workouts, to consistent inspiration that feels meaningful.
This is a practice app that offers the exact steps to be relaxed and strong under pressure, and connect to life instead of react to it. Using the BodyLogos Method®, you'll discover how your body's position affects your mind's disposition.
The BodyLogos Method® translates your emotional tension triggers––the cause of chronic pain and anxiety––so you can begin to disengage from the influences that take you out. Through mind body alignment, a combination of correcting posture and restructuring beliefs, you create balance and choice. In other words, you deliberately create the life you want!
"BodyLogos is a whole new approach to body sculpting that uses weights to enlighten you."
"Tammy Wise's BodyLogos movement is Mindful Fitness."
"For a truly Zen workout experience, BodyLogos provides cross training to strengthen both mind and body."
The Mind Body Adventure App is a mind-body practice app that supports self-appreciation, self-confidence and self-love when under the pressure of outside resistance.
The Art of Strength App Program keeps your mind and body aligned and fit through:
Mind Body Strength Training WorkOUT Videos
Quick Posture WorkIN Videos
Visualization Body Journeys
Mindset Prompts
Extra Teaching Videos and multiple PDF Worksheets.
The Art of Strength Program trains you to be relaxed on the inside and strong on the outside. Follow a structure for success!
The Mind Body Adventure––Art of Strength App Program: $34.99 per month
WANT MORE PERSONAL ATTENTION & QUICKER RESULTS!
THE ART OF STRENGTH 5-WEEK DEEP DIVE
The Art of Strength Deep Dive kickstarts your mind body adventure. If you're like most people, you need support to change old habits.
The Art of Strength Deep Dive offers real-time physical training and mindset coaching with me. This deep dive is done in small groups to motivate you into bold action. You'll unveil your unique tension patterns, relate them to your unique story, then discover how training your posture changes your life!
Transform unconscious tension habits into peak performance posture today!
The Art of Strength, 5-week deep dive with 3-months app membership
CLICK TO LEARN MORE TODAY