WISEBATH – Milled Oat Scrub
$25.50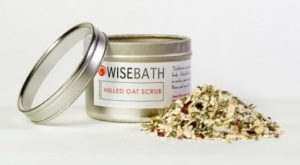 Cleopatra was known for her beauty and her milk baths! While Oats exfoliate your skin, Milk will nourish and moisturize. In addition to renewing tired skin, WISEBATH Milled Oat Scrub draws on the anti-aging healing properties of Thyme and the fragrant polish of Rose Petals and Orange Peel. Exfoliate, invigorate and soften your skin. Both gentle and coarse like autumn leaves, this scrub is safe for both face and body. You will almost hear your skin rise to new life.
Active Taoist Meditation: "Meet life where it is and integrity will be preserved."
4 oz. Organic Skin Care Ingredient & Natural Healing Qualities: Oatmeal – softening; Powdered Milk –  smoothes skin; Thyme – natural antiseptic, soothing; Rose Petals – fragrance; Orange Peel – fragrance
Other Products You Might Like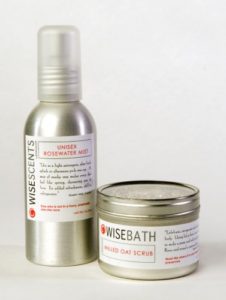 BEAUTY PACKAGE: The WISEBEAUTY Beauty Package is infused with the essence of roses. While the MILLED OAT SCRUB polishes your skin with rose petals, the UNISEX ROSEWATER MIST will hydrate your skin and delight your senses with rose essential oils. Being waft in the spirit of rose is like being blanketed in love.
WISEBATH – Milled Oat Scrub Natural Healing Qualities: While Oats exfoliate your skin, Milk will nourish and moisturize. In addition to renewing tired skin, WISEBATH Milled Oat Scrub draws on the anti-aging healing properties of Thyme and the fragrant polish of Rose Petals and Orange Peel. Active Taoist Meditation: "Meet life where it is and integrity will be preserved." WISESCENTS – Unisex Rosewater Mist Natural Healing Qualities: The essence of rose not only soothes the soul it smoothes away unwanted puffiness while hydrating your skin. A mist of WISESCENTS Unisex Rosewater Mist makes every season feel like spring, while the scent showers you in love. Use as an afterbath splash, aftershave astringent or afternoon pick-me-up. Active Taoist Meditation: "One who is not in a hurry eventually wins the race."
Other Products You Might Like