Description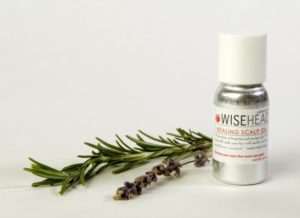 In addition to the healing attributes of Rosemary Oil, WISEHEAD Healing Scalp Oil adds Lavender and Bay Oils to round out the fragrance. Use for relief of dry scalp, itching and dandruff. While you feel your head tingle and breathing ease, your mental focus will take on the vital calm of summer. A few drops at a time, is all you need!
Active Taoist Meditation: "The less you take the more you gain."
For centuries, both men and women have messaged their scalps with Rosemary Oil to keep their hair lush and healthy. The circulation stimulated by the use of Rosemary Oil has shown memory improvement, pain reduction & anti-depression effects as well as hair growth and scalp conditioning. .6 oz. Organic Skin Care Ingredients & Natural Healing Qualities: Rosemary Oil – natural antiseptic, natural astringent, mental clarity; Lavender Oil – fragrance, natural antiseptic, uplifting, calming; Bay Oil – General Tonic, natural headache remedy.