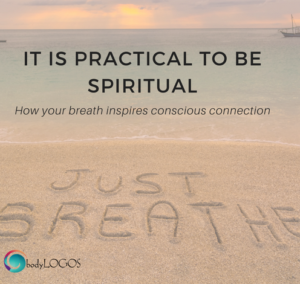 How your breath inspires conscious connection.
Strip yourself down to blind breath to get out of your own way.  By blind I mean, without preconceived beliefs and expectations that ultimately tighten your breath and take you out of the mystery and freedom of the moment. Take your preconceived definitions away and who are you?
You are raw to the bone; you are free!
Imagine your muscles surrendering their grip from your bones with each breath. The skeleton is free to align as it was designed to, without the tension of outdated beliefs and habits imposing themselves on your mind and body. To breathe life in and death out, in real  time, is a spiritual and practical journey that aligns you with who you are now, rather than with who you have been.
Conscious breathing opens up the body to receive oxygen and the mind to embrace purpose–the givers of life. Without a significant  relationship with your breath there is no significant learning that can thrust you forward into a self-fulfilling life. Instead, you repeatedly  defend your life's has-beens. Conscious breathing invites you to question and realize that there is a transcendent perception to be  glimpsed in every moment.
Are there times you suddenly realize you hold your breath?
When do life surprises interrupt your breathing?
Are you aware your breath reacts to your emotions?
Do you use your breath deliberately to create a desired response?
It may sound grandiose to equate the simplicity of breathing with your spirituality, rather than with the intricacies of a religious testament. However, breathing is the very thing that keeps you connected to every moment. Breathing enthuses you to be  curious–curious enough to question your own ways.
CONSCIOUS BREATHING
·      Inhale. Notice your diaphragm relax and surrender outwardly. Like Buddha, fully accept what is. Let your body oxygenate and feed on the nutrients filling your bloodstream. Let your mind expand, connect, and allow for meaning, so you unite to the moment with intent to discover yourself anew.
·      Exhale. Notice your diaphragm gently contract inwardly. Like Gandhi, release all that is no longer. Let your body empty itself of that, which is exhausted of nourishment and plaguing your existence with tension. Let your mind become clear of run-on thoughts, so you are free to feel what is truly relevant for you in the moment.
Recently, Elise told me her psychotherapist advised her to meditate because she was her own worst enemy. Her negative self-talk was getting the best of her. She's moving and leaving a job, she says, "it's so hard to clear my mind; but this was crazy, surreal!" She focussed on steadying her inhales first, making it as full as possible, bringing in as much clean, white light as possible. Then she focussed on releasing the same amount of negativity and darkness through her exhales. She said, "My vision became clearer. I felt like I was at the beach, my breath was in sync with the ocean waves crashing at the shore line; I felt warm sunshine and clarity so easily."
Breath brings the biology of being human together with the cosmology of our Universe; it is a physical-spiritual intersection. The study of life merges with the origin and evolution of the Cosmos. Life, as we experience it, is founded on this relationship with Creation,  making the breath of our existence a physical-spiritual union. Spirituality is not tied to religion it is tied to Creation.
https://bodylogos.com/wp-content/uploads/2018/01/Spiritual1.png
470
496
Tammy Wise
https://bodylogos.com/wp-content/uploads/2021/12/Tammy-WIse-.png
Tammy Wise
2018-01-22 20:25:55
2018-01-17 20:26:57
It is Practical to be Spiritual