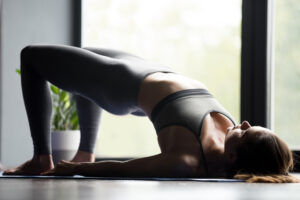 While learning posture's subtle balance between surrendering and aligning, a student questioned, "shouldn't good posture be natural––balancing attention between tension and strength is hard?!"
I felt that his sentiment should be true, but my experience working with bodies showed otherwise. So I slept on it. (My go-to place when stumped!) As I laid down that evening and felt my spine unfurl into its rightness and enjoyed my muscles' surrender from a day's work, it struck me. He's right!
The precision of posture is natural—when horizontal!
Since then, whenever a client expresses uncertainty about what is correct posture, I lay them horizontal and help them answer the question from a supine position.
Gravity is a blanket that guides you to your best self.
https://bodylogos.com/wp-content/uploads/2019/12/Bridge_iStock-1042985104.jpg
1414
2121
Tammy Wise
https://bodylogos.com/wp-content/uploads/2021/12/Tammy-WIse-.png
Tammy Wise
2019-12-10 19:30:31
2019-12-11 12:34:07
Find Your Natural Posture