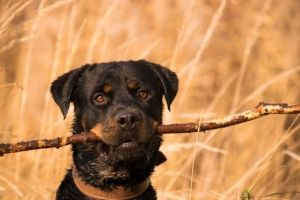 An animal on its back with paws folded up by its shoulders disarms a fast track world. We stop to breath in its self immergé, wishing we too could open ourselves so freely.
I'd find my Rottweiler Hilda in this submission. On a hot summer day, in an empty cool bathtub, she'd delight in her self-soothing remedy. I'd find her with tongue hanging out the side of her mouth, giving me a look of complete nirvana.
Can you imagine, in the midst of my intrusion, such a vulnerable posture continuing to feel delightful?
Opening your physical body feels like opening your secret chest of hidden imperfections. And, if they were to be seen, would ensure the humiliation of being unloveable.
Hilda accepted who she was. Although she was nasty when protecting her bones; insistent about dragging the biggest stick home from the park; and, she could not share her toys! She never questioned the value of her character.
The same qualities that made her a lot to handle, made her my champion. She was a guard dog by nature. She protected me with the same commitment she had to her bone and toys. And, dragging a big stick felt good to her teeth and gums. And maybe her ego too?
My point is. She didn't judge her nature. She accepted it and fully engaged with it. And so can we, to our nature.
Self-awareness is at the root of your potential. But if becoming aware of yourself causes you to want to change yourself you have skipped the most important step. Delighting in yourself.
Delight in who you are. The parts that you define as good and not so good. Every perceived bad habit, shortcoming and defect has a yin and a yang.
Never forget, you are a part of the natural world, created out of star dust and Goodness. Believing that Creation has an intelligence beyond your own offers you room to explore your self-doubt.
Creating positive change is about surrendering your body's tension and mind's judgment to align with who you are, not change who you are. Look beneath judgment. Align with what was created in you.
Please comment with your experience around surrendering tension.
https://bodylogos.com/wp-content/uploads/2020/11/Rotweiler-animal-3210213_1280.jpg
853
1280
Tammy Wise
https://bodylogos.com/wp-content/uploads/2021/12/Tammy-WIse-.png
Tammy Wise
2020-11-15 16:33:28
2020-11-15 16:33:28
How My Rottweiler Taught Me To Submit