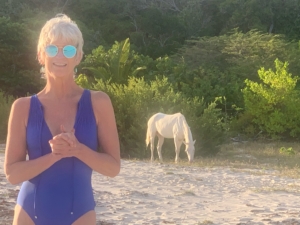 As I float on a train through backyards filled with yesterday's snow, I prepare myself for my sister's 6pm death. The creep-factor of the extended days on a ventilator are pacified by her healthy organs being paired for donation. She will die a hero.
I wonder… when a ventilator keeps a body alive does our Spirit body stick around?
Am I going to visit a heaving corpse?
When I get there, I witness mechanized breathing with perfect rhythm. Her body is like a self-driving Tesla with all the sound effects. She's expressionless, motionless and powerless, except for her heaving chest.
Days before I was in Vieques, a small island off of Puerto Rico with wild horses, roosters, pigs and peacocks wondering about minding their own business. An albino horse pranced up to me on the beach (an unusual behavior for a wild horse). We frolicked around and she let me pet her angelic white mane for as long as I liked.
As I walked away I was sure that that was my sister saying goodbye. She used to own a black horse named Raven's Wing. She loved horses and we shared this affection.
When I returned to my resident friend down the beach and shared my experience he said, "That was a ghost horse. I'm sure it was your sister!"
But here I am today, looking at her alive… sort of.?! How could she be here and there?
After watching her for hours, it was time to say my final goodbye. I spoke of how our parents had not said I Love You when we were kids. But that, at some point in her adulthood, she started to say I Love You to me. While at first it felt like koodies; I told her that after years of her saying it, I started to consider the possibility of Love being a kind, caring and forgiving thing.
Just as I said, "Thank you for helping me feel Love as goodness," she started to gag.
I ran to the nurses desk, "HELP, my sister's in distress!"
As they attended to her, I felt certain her spirit was here in her mechanized body. She heard me and responded to my heartfelt story of how her Love healed my cautious heart.
As I journeyed back home in the dark, I meditate on how the veil between our earth-walk and spirit-walk is not a straight line. We evolve and grow through physical, mental and spiritual planes at different speeds, times and levels of consciousness.
We're multidimensional mortals. We're spiritual beings borrowing physical and mental bodies.
My sister was becoming immortal. I'm witness to her spirit body dominating her other bodies. In Tao they say, Transformed Immortals can walk in both worlds and Love is their guiding force.
I believe my sister frolicked as a horse, gagged on her ventilator, and continues to say I Love You to me. I believe she is free to walk in either world to help human's Love.
I Love You sis.
https://bodylogos.com/wp-content/uploads/2022/02/IMG_5276-scaled.jpeg
1920
2560
Tammy Wise
https://bodylogos.com/wp-content/uploads/2021/12/Tammy-WIse-.png
Tammy Wise
2022-02-28 18:37:35
2022-02-28 18:37:35
My Sister's Scheduled Death