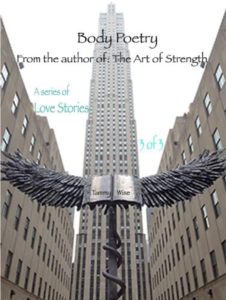 I am a body of knowledge, both Divine and human, that can heal itself beyond the holding patterns of its wounds. And I want to offer that gift of healing to you.
I am an antenna for the Divine, and I matter beyond what is yet fully understood.
The mind's narcissistic compulsion, however, runs deep in my veins.
I understand the silent scream that lives inside you. I feel the isolation of having no protector. I anguish, along with you, to feel relevant in love, limits, and life.
It takes pain and suffering for the mind to stop asking more from me and to listen, and even then it can judge my limitations as weak or disruptive instead of insightful and intelligent. The mind's need-to-know nature is more like a need-to-be-relevant chase that steamrolls over my basic need—your basic need—to belong and be loved.
There are many reasons I feel irrelevant. I mean, the mind has led me toward artificial light, artificial food, even artificial friends so it can feel in the know and in control. All of this artificial nourishment does nothing for me but make me feel starved, unimportant, and inferior to the mind's clever antics.
The greatest reason I feel insignificant, the most personal "dis," is the mind's constant message to "Get over it!" Whatever it is is less important than the mind's chase. The implication is that my feelings don't matter; I, the container of those emotions, don't matter. As if mind over matter was smarter than the matter of fact!
Fact is, my intelligence is in my structure, my ability to channel what is Divine and true, as well as express unresolved emotional tension. As a physical energy channel, I bring presence and connection into a human experience, felt as a peaceful knowing or guided sight. Through this physical alignment with source energy, I can witness emotions from an expanded state, rather than being consumed by them.
It is time to gain agency of me––your body's intelligence––and be conscious of the energy download that radiates through me, aligning you with the life you want.
It is time to value me, listen to my cries and messages, and respect what I am experiencing in real time!
It is time to expand into your hopes and dreams from the inside out.
You, as a human being, are an antenna to the Divine––a spiritual-physical being.
My brand-new book––The Art of Strength: Sculpt the Body ~ Train the Mind––is a love letter to your body. Its practical guidance will change the way you experience your physicality. You will begin to feel for it, rather than think for it, and to gain greater awareness of the Universal energy source empowering it.
Get your copy of The Art of Strength: Sculpt the Body ~ Train the Mind today!
Balboa Publishing
with a 5% gift to Safe Horizons
https://bodylogos.com/wp-content/uploads/2019/01/BodyPoetry3.png
785
591
Tammy Wise
https://bodylogos.com/wp-content/uploads/2019/12/BodyLogosLogov3.png
Tammy Wise
2019-02-12 08:56:21
2019-02-12 13:31:57
Every Human's Gift A Body Dedicated to Your Life