The BodyLogos Philosophy: Now In Book/Video Form!
Whether you're a visual, aural or verbal learner, you'll discover how to
release tension and build strength.
Order your copy of The Art of Strength: Sculpt the Body ~ Train the Mind, a pioneering book/3D video learning system today!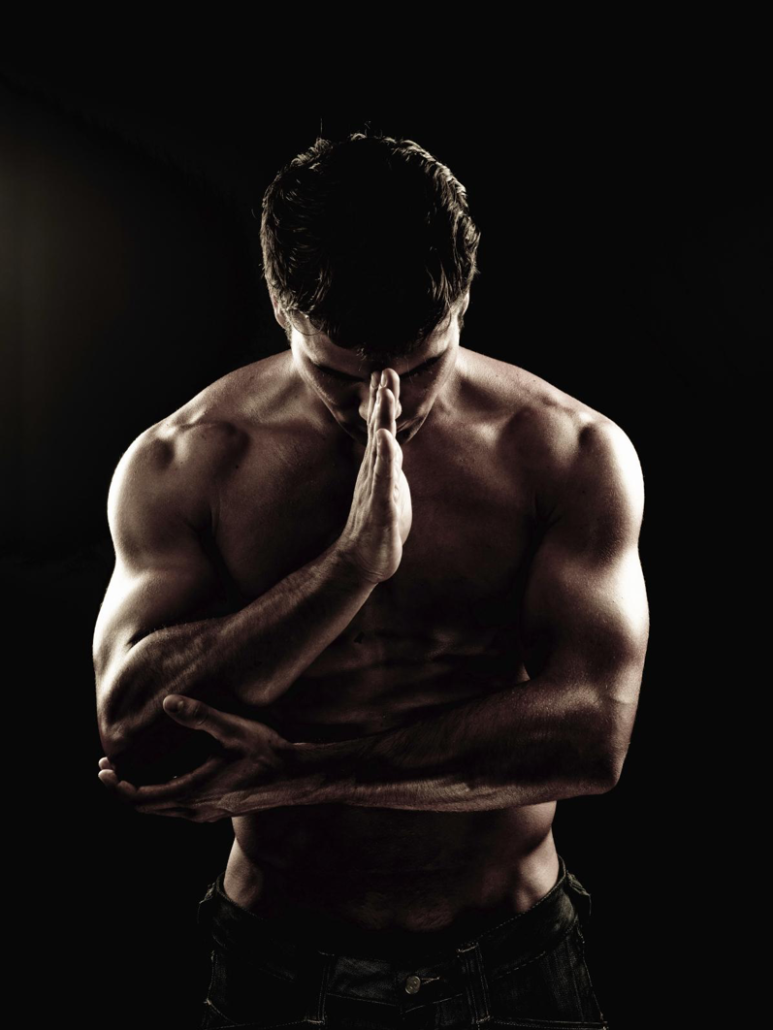 Where to start, where to start, where to start:
A Sneak Peek Into My First Book–Chapter 1 & 2 of The Art of Strength
That's what was looping through my head as I sat down to begin the oh-so-exciting yet equally intimidating task of writing my first book about the BodyLogos philosophy and program.
My approach combines meditation and strength training, joins the best of Eastern and Western fitness, to help create real and lasting strength. It's about integrating our emotional and spiritual selves into our workouts to become totally aligned. And therein was my answer…
The practice and, thus, my book start with a focus on how our minds and emotions intersect in the body. Its first chapter aims to set you on a path to recognize this intersection and connect you with your Spirit Self.
Tao thought says, your Spirit Self is a "pregnant void" needing only direction.
These pages help you intend a direction to create the life you desire and set you up to live that life from a place of true strength.
You see, a meditation practice properly informs your exercise practice. Perhaps surprisingly, the goal with each is not to focus on the end result, as our culture tells us to do—to see meditation as solely a way to de-stress or exercise as only a way to look good. (aka better than you do as you are.)
Rather, the secret is simply to focus on the journey itself; and meditation is the perfect tool to learn how to do just that. A BodyLogos workout gives both your mind and the emotions that are stored in your body a chance to take a timeout from self-criticism, and instead employ and embrace self-acknowledgment–the act of listening inwardly..
I call this focus on the journey "meditative fitness."
Meditation is key to ensuring that your strength training does more than align your body, or your human self. When you learn to incorporate meditation into your exercise practice, you create the foundation for being your authentic, integrated, vulnerable, and bright Spirit Self in the world. If that isn't the definition of strength, I don't know what is!
In chapters 1 you'll find:
Step-by-step instructions

that guide you through a traditional Tao Active Meditation, that reorganizes the body, and BodyLogos Active Meditations, that neutralize your mind.

An introduction to the BodyLogos Psyche-Muscular Blueprint

. Every muscle group corresponds to an aspect of your Self; when isolated in a strength-training workout, that emotion is stimulated.

An overview of posture analysis

and ways to help you discern the meaning of your body's messages.

Meditations on the five elements of Tao:

fear, anger, joy, reflection, sorrow.

And much more,

including links to video tutorials for guidance.
For centuries, Taoists have believed that our ability to listen to the body is as valuable as listening to the mind. As this chapter illustrates, they're inextricably connected.
Using active meditation and the BodyLogos approach to posture, you can pinpoint the root cause of emotional tension in your body. Then, through precise mindful adjustments in skeletal alignment and muscular balance, you challenge your body to integrate those adjustments using strength-training exercises, which the book covers in great detail in later chapters.
BodyLogos helps you stretch away from what you think about yourself and toward what is less familiar in the world—it awakens your innate trust in the Universal Spirit.
Get started on your journey to strength and  well-being!
Get your copy of The Art of Strength: Sculpt the Body ~ Train the Mind today!
Balboa Publishing
with a 5% gift to Safe Horizons
https://bodylogos.com/wp-content/uploads/2019/01/BodyLogos-e1547127406966.png
533
400
Tammy Wise
https://bodylogos.com/wp-content/uploads/2019/12/BodyLogosLogov3.png
Tammy Wise
2019-01-14 07:28:56
2019-01-10 13:52:12
A Sneak Peek Into My First Book–Chapter 1 & 2 of The Art of Strength