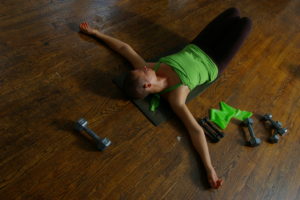 Live in the sweet spot of your strength.
There are those who believe that pushing their strength to the absolute maximum is the requirement to be strong. Others believe that if they conserve their energy they'll be strong. The truth is, strength lies right in the middle.
If your strength-training workout is so heavy that you feel yourself as weak, you're building as much tension as strength. If your strength-training workout is so light that you feel yourself bored or unchallenged, you're taxing your joints more than building muscle.
So how do you know when your workouts are just the right intensity?
When it comes to strength training there are two principle components to consider: bones and muscles.
Considering bones means maintaining your rightful posture, no matter the challenge; no excuses!
Considering muscles means balancing a contracting muscle with an equal and opposite releasing muscle.
Together these considerations allow you to connect to a challenge and create a change without compromising yourself. This is strength!
Next time you're in the gym, let your enthusiasm inspire you to experience feeling strong, rather than chasing or saving strength.
To be strong is to live in it! Feel it in the moment of challenge; feel it in your relationship with resistance; feel it in the temperance to prove yourself.
Stop chasing strength and experience it with ease!
https://bodylogos.com/wp-content/uploads/2019/01/HiieTired.jpg
1024
1536
Tammy Wise
https://bodylogos.com/wp-content/uploads/2019/12/BodyLogosLogov3.png
Tammy Wise
2019-01-10 08:58:09
2019-01-09 14:00:12
Give Yourself the Gift of Strength